Life is short… so let's eat, drink, and be mindful.
🙂
Eat
Two working parents, two hungry kids, an adventurous kitchen! 
Jocelyn Sage Mitchell and her husband Nick have come a long way from boiling pasta and setting off the fire alarm in the university dorm kitchens. The two have tried their hands at all types of cuisine and figured out what is worth going to a restaurant for (sushi, definitely sushi) and what they can nail at home (surprisingly: falafels!). Cooking good food (definitely yummy, sometimes healthy!) is how Jocelyn shows love. From celebrating special occasions and holidays to just enjoying family dinnertime, food brings us together. Above all, Jocelyn agrees with Albert Einstein: "An empty stomach is not a good political advisor."
Drink
And then after bed, mommy and daddy need a cocktail…
Jocelyn and her husband have always enjoyed a good cocktail, but when the COVID-19 pandemic hit, they found themselves with more time to explore mixology (and more reasons to drink…). They've had a lot of fun learning more about the basics of cocktail making and giving each other bar equipment gifts that benefit both of them. 🙂 Jocelyn and Nick have even figured out the recipes to some of their favorite cocktails-about-town! Along with her friends in their Wednesday Night Cocktail Club, Jocelyn enjoys raising a glass to celebrate the good times and soothe the difficult. As F. Scott Fitzgerald wrote, "Here's to alcohol, the rose colored glasses of life."
Be Mindful
And then they have the dishes to wash…
Meditation and mindfulness help Jocelyn Sage Mitchell be grateful and "in the moment." Although Jocelyn hasn't established a regular daily practice yet, it's good to have goals! (LOL.) She is excited to share with others some beautiful insights from books, and wonderful guidance from some great apps (podcasts, meditation, yoga). Overall, being mindful has helped Jocelyn become more aware, more accepting, kinder (to herself and others), and more positive. So when faced with a pile of dishes from her latest cooking or cocktail endeavor, Jocelyn keeps in mind these words from Thich Nhat Hanh: Why do we wash the dishes? We "wash the dishes in order to wash the dishes." 🙂
NEW: Small House, Big Ideas!
Making the most of a small space to create a beautiful home!
Jocelyn Sage Mitchell and her family recently moved to be closer to family. The house is smaller but the ideas are still big! And with two growing children, Jocelyn and Nick are being creative with space saving techniques and prioritization. They are excited to share the tips and tricks they are learning along the way. including budget hacks, do-it-yourself projects, the store furniture that delivers style and value for small spaces, and, of course, the life-changing offerings of IKEA that pair European small-space mentality with clean and modern Swedish design. Turning a house into a home takes a lot of time, effort, and love, but the Mitchell family is up for the challenge! As Myrtle Reed wrote, "May our house always be too small to hold all of our friends."
Learn some cooking tips, mixology insights, meditative inspiration, and small space interior design by visiting Jocelyn Sage Mitchell's blog page! 
My dad was wise and thoughtful about life. One of his lessons gave me the strength to face my worst nightmares with my back straight and my head held high.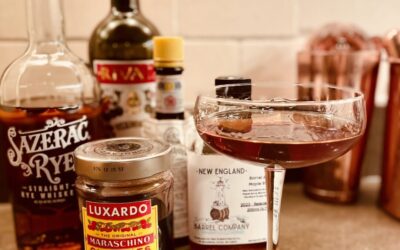 Here's how to make a delicious Maple Manhattan! This cocktail has rye whiskey, red vermouth, Luxardo maraschino cherries, & the secret ingredient: maple syrup.
Tennessee whiskey a pleasant sipper and a great liquid to blend with other ingredients in various whiskey cocktails. Here's my recipe for the Tennessee Flip!