Yay! It's time to make amazing aged eggnog for the holidays! Every year, I follow Alton Brown's Aged Eggnog recipe, let it age for at least two weeks, and it's perfection throughout the holiday season. The only problem: What to do with the 12 unused egg whites from this recipe? Well, having extra egg whites is a problem no more, with this fabulously delicious egg white frittata recipe. Here's how to make a crowd-pleasing breakfast that is healthy and yummy at the same time! (Alongside my egg muffins, this frittata recipe is a morning saver!)
Egg White Frittata (with inspiration from Erin Clarke's Well Plated!)
Ingredients
12 egg whites
¼ cup half-and-half (could also use any preferred milk product)
1 T unsalted butter
1 cup total chopped veggies, separated (keep red pepper and diced red onion separated from the quartered grape tomatoes)
¼ t each of basil, rosemary, thyme, oregano
¼ t salt
¼ t pepper
1 ½ c thinly chopped fresh kale (could also use spinach)
1 T olive oil
½ cup shredded sharp cheddar for the top (eye it – I used about ½ c)
Method
Preheat the oven to broil (low), with the rack in the upper third of the oven.
Heat a cast iron skillet over medium heat on a burner big enough to encompass the edges to ensure proper cooking of the full frittata. Melt the butter, add the pepper and onion, and sauté for 6-8 minutes until soft and starting to color. Add the spices, salt and pepper, and tomatoes, and cook for another minute. Next, add the chopped greens with olive oil drizzled over them, and stir until the greens wilt and cook down, about 2 more minutes.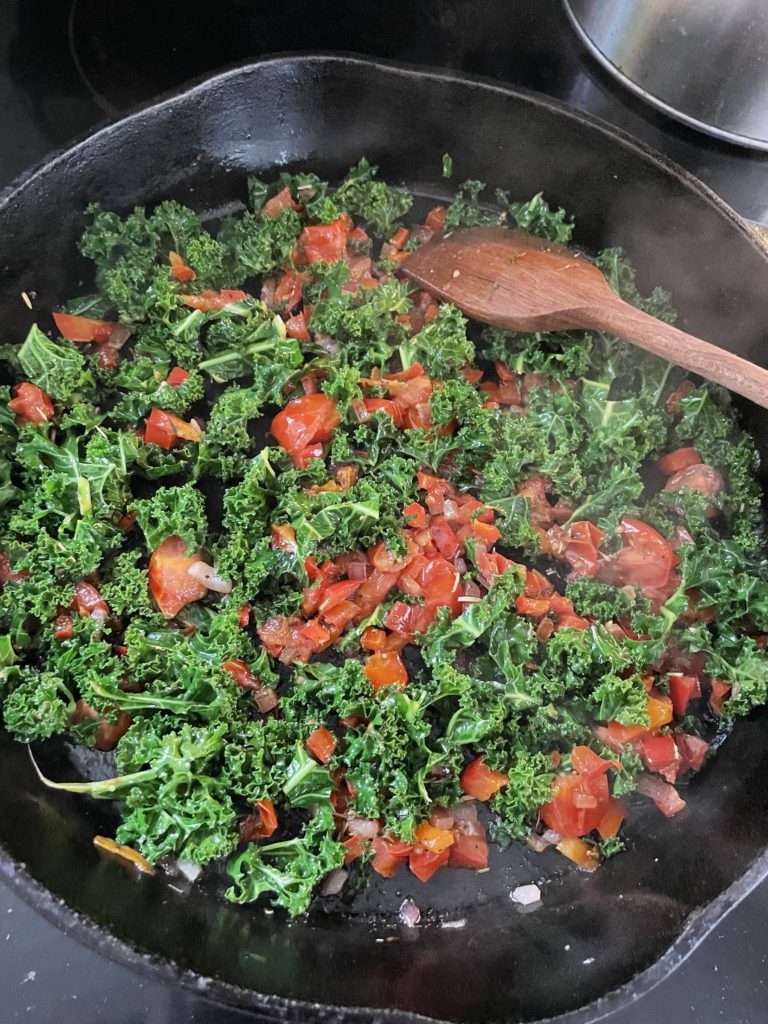 Whisk the egg whites with the half-and-half until nice and frothy. Pour the egg mixture into the skillet and let cook undisturbed until the edges begin to cook through. Then, maneuver the edges up with a spatula and tilt the pan to allow uncooked egg from the top to run underneath the cooked eggs to ensure even cooking. This process takes about a minute.
Sprinkle the cheese on the top and broil in the oven for 2-3 minutes (keep an eye on it!) until the cheese is puffed and the egg whites are cooked through. Slide onto a cutting board. Cut into wedges and serve along a side of baby arugula. Enjoy!