Ah, the holidays! The season when you sit by the fire and fall asleep from all that delicious overeating. Here's where a nice jolt of espresso can really help you stay awake and enjoy all those special holiday moments! This week at my cocktail tasting, I shared my favorite espresso martini recipe (recently tweaked!) and paired it with a lesser known but still amazing holiday espresso cocktail: the espresso old fashioned. Both of these drinks are delicious, highlight their flavors well, and give you just a bit of a caffeine boost so that you can enjoy those nights by a crackling fire.
The espresso martini is a classic drink, although the "martini" part is debatable—I guess traditional martinis and espresso martinis both have vodka! But, just like the champagne sidecar (and many other "classic" cocktails), there are lots of different recipes out there. Everyone includes different ingredients and employs different proportions. Again, it's all about your own taste! You've got to try some variations and figure out what you like best. What I like best is an espresso martini with vodka, fresh (cold) espresso, a semi-sweet coffee liqueur, and a creamy chocolate liqueur. 
The main liquor base of an espresso martini is vodka, so it's important to use a high-quality and smooth vodka to allow the other elements in the cocktail to shine. For this week's espresso martini, I used Gallant vodka, an elegant and smooth winter wheat vodka made in the Cognac region of France. This vodka is not only distilled five times, it's also then slow-filtered through a fine paper mesh for seven days, resulting in a vodka that is so pure, crisp, and clean it is a popular export to Russia (a country that definitely knows good vodka!). No wonder this vodka won gold in the San Francisco Spirits Competition. To this base, I added freshly made (and cooled) Café Bustelo espresso, Café Granita coffee liqueur (which I've used before in the spooks-a-latte) and—the new tweak—El Padrino Chocolate tequila cream instead of the traditional creme de cacao or Irish cream. I really like using a semi-sweet coffee liqueur like Cafe Granita rather than the full syrupy sweetness of Makaio, but again—everyone has their own preference!
But before the dessert espresso martini, consider starting the evening with an espresso old fashioned! The old fashioned cocktail was originally known as "the whiskey cocktail," because it was literally the first cocktail created. Old fashioneds are traditionally made by muddling together sugar and bitters, topping with whiskey (traditionally rye), and stirring with ice to dilute before garnishing with oranges or cherries. But like all other classic cocktails, the recipe has evolved to encompass many different ingredients, techniques, and flavors, like the "Wisconsin Old Fashioned," as shown by one of my favorite YouTube mixologists, Anders Erickson.
My own espresso old fashioned recipe uses Wolcott Kentucky Straight Bourbon. Again, whiskey is the main ingredient, so quality matters. Wolcott, like all bourbons, is made from at least 51% corn, but it also includes at least 25% rye grains in its mash. This mix allows Wolcott to get the best flavors and finishes of both bourbon and rye: the characteristic sweetness of bourbon with the spice of a bit of rye. Aged for more than four years in oak barrels to give it notes of butterscotch, vanilla, and caramel, the overproof bourbon is a perfect choice for an old fashioned—smooth and robust with a long finish! All you need to do is add the fresh (cold) espresso, some simple syrup (we prefer Demerara syrup), and a generous amount of Angostura orange bitters (at least 4-5 dashes—I like 6!). Now this is the kind of drink to sip by a fireplace!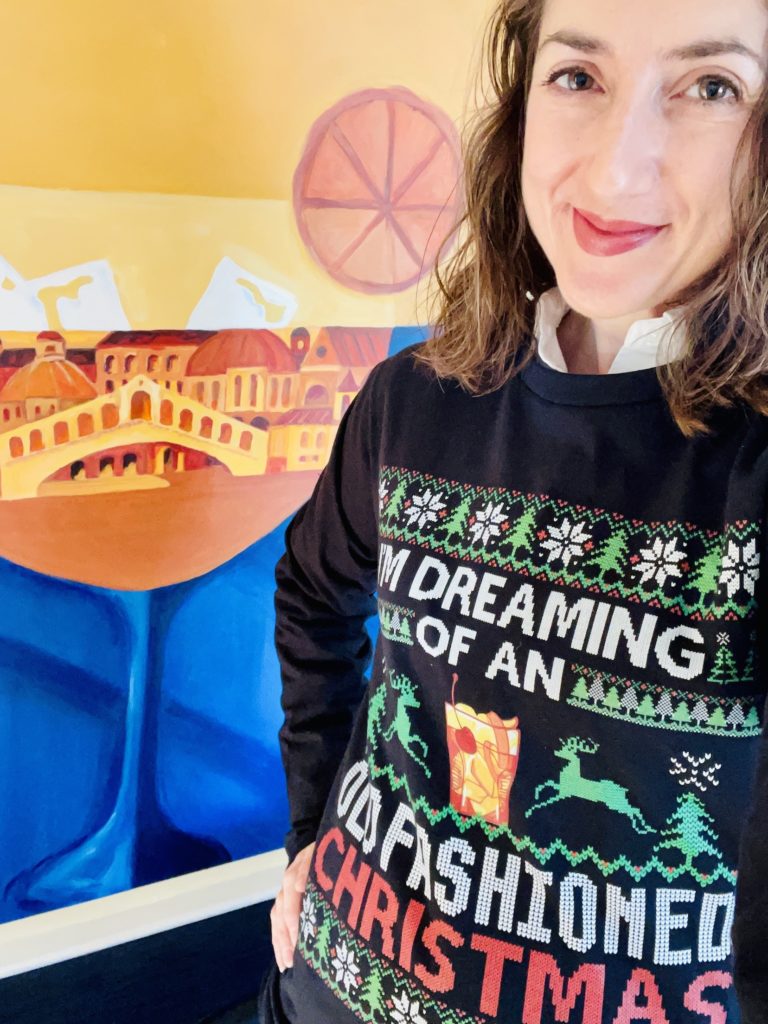 Holiday sweater #3: "I'm dreaming of an old-fashioned Christmas…" 
Here are my recipes for the espresso martini and the espresso old fashioned!
Espresso Martini
Ingredients
1.5 oz vodka
0.5 oz semi-sweet coffee liqueur
0.5 oz chocolate tequila cream
1 oz fresh, cold espresso
Method
Combine all ingredients in a shaker with ice. Shake until chilled and strain into a coupe glass. Optional: Garnish with coffee beans!
Espresso Old Fashioned
Ingredients
1.5 oz high-rye bourbon
1 oz fresh, cold espresso
¼ oz Demerara syrup
4-6 dashes Angostura orange bitters
Method
Combine all ingredients in a rocks glass. Stir with a large cube of ice to dilute. Enjoy!