Amos Rusie was a Major League Baseball pitcher from the 1890s nicknamed the "Hoosier Thunderbolt." He is also a distant relative of my husband Nick (something like a great-great-great uncle on his mother's side)! Amos Rusie is credited as the reason the pitching mound was moved back to 60 feet—because his pitches were so fast and hard and a bit wild. If you want more details about his personal and professional life (they are juicy!), check out his bio page at the Society for American Baseball Research (SABR) website.  
Many sources tantalizingly mention that, during his time as a pitcher for the NY Giants, bars in New York City created cocktails in his honor—but none of these sources gives a recipe! The closest we have found to a "recipe" of sorts comes from Tim Wendel's book, High Heat, where he writes: "Near as we can tell today, it was a cross between a daiquiri and a champagne fizz." I actually reached out to Tim Wendel, and he checked with his contacts in Cooperstown, but no one could find out anything more about this recipe!
So Nick and I did some research on cocktails that are a cross between daiquiris and champagne fizzes, and we found the Airmail, a cocktail from the 1900s, making it a historically contemporary cocktail to the mysterious Rusie cocktail. Imbibe Magazine gives a nice write-up of the Airmail cocktail, along with a recipe, explaining it as "a supercharged Daiquiri made with honey and Champagne."
We didn't love the Airmail cocktail, so we tweaked it a bit and found perfection. Here's our super-secret (lol) recipe for reincarnating the historic Rusie cocktail! We have a feeling that our distant ancestor Amos Rusie would have approved of our version! Our Wednesday Night Cocktail Club crew certainly did. 
The Rusie Cocktail
Ingredients:
1 oz rum (we recommend Havana Club Añejo 3 Años (3 Year Old) Cuban Rum)
0.5 oz fresh lime juice
0.5 oz strong honey syrup (3 parts honey to 1 part hot water)
0.25 oz demerara syrup (1:1)
1.5 oz Champagne
Method: Combine all ingredients except the Champagne in a shaker, and shake with ice to mix and chill. Strain into a coupe glass and top with Champagne.
Cheers to Amos Rusie, the Hoosier Thunderbolt!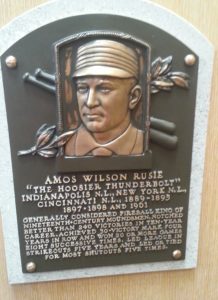 Amos Rusie's plaque on display in the National Baseball Hall of Fame and Museum in Cooperstown, New York. Image by Penale52, CC BY-SA 3.0, via Wikimedia Commons.