Everyone has that person in their lives who likes to enjoy a fine classic single-malt Scotch on the rocks (or for the truly hard-core, neat!). I am not that person. I like my Scotch in a cocktail. I'm here to assure you that you should feel free to use the "good stuff"—like the Shieldaig Speyside 12-Year Single Malt Scotch Whisky—in your Scotch cocktails. YOLO (you only live once), and besides, it's the holidays!  Keep your Scotch-sipping friend company with these two great cocktails: the This & That and the Godfather.
Whiskey is the only spirit crafted exclusively from grains (such as barley, corn, rye, or wheat). Scotch is an Old World whisky, as opposed to the New World whiskies from the US (like Tennessee whiskey) and Canada. While whiskey made in the US and Ireland is spelled as "whiskey," whisky made in Scotland, by law (!), spells it as "whisky." Scotch whisky is generally earthy (due to the malted barley), characteristically smoky from the peat fires used in the distillation process, and has flavors of vanilla and spice (because of the lengthy aging of at least three years in second-use oak barrels).
The Shieldaig 12-year Scotch that I'm using this week is a single malt Scotch, which is considered the "gold standard" of Scotch whiskies. Single malt means that the Scotch is created from a single distillery with only malted barley and water in a batch-by-batch distillation process in copper pot stills. While 90% of exported Scotch is blended (a mix of barley and other grains, usually wheat), only 10% of Scotch production is single malt. 
It's important to know that Scotches can taste very different, depending on which region of Scotland they come from! This Shieldaig comes from the Speyside region, which is to the northeast of the Highlands region. Speyside, with its quality water from the River Spey, has almost half of all the Scotch distilleries in Scotland. The Northern Highlands region in general is known for full-bodied, rich, and sweet Scotch whiskies. Speyside Scotches are smooth and balanced, fruit-forward with flavors of apples and pears as well as honey, vanilla, and spices. The Shieldaig 12-year has a complex, lush, and even finish that makes it perfect for sipping or for enjoying in a great cocktail!
For my tasting this week, I'm mixing up the This & That cocktail (created by Beth Willow at Seaworthy in New Orleans) and my version of the Godfather (heavy on the amaretto!). The first is a refreshing, citrus-forward cocktail with additions of peach and ginger that enhance the natural fruity and honey characteristics of the Speyside Scotch. My version of the Godfather uses a 1:1 ratio of Scotch to amaretto—a good amaretto, like Knight Gabriello, will give a nutty smoothness to the Scotch without being overpoweringly sweet. Here are the recipes! Cheers!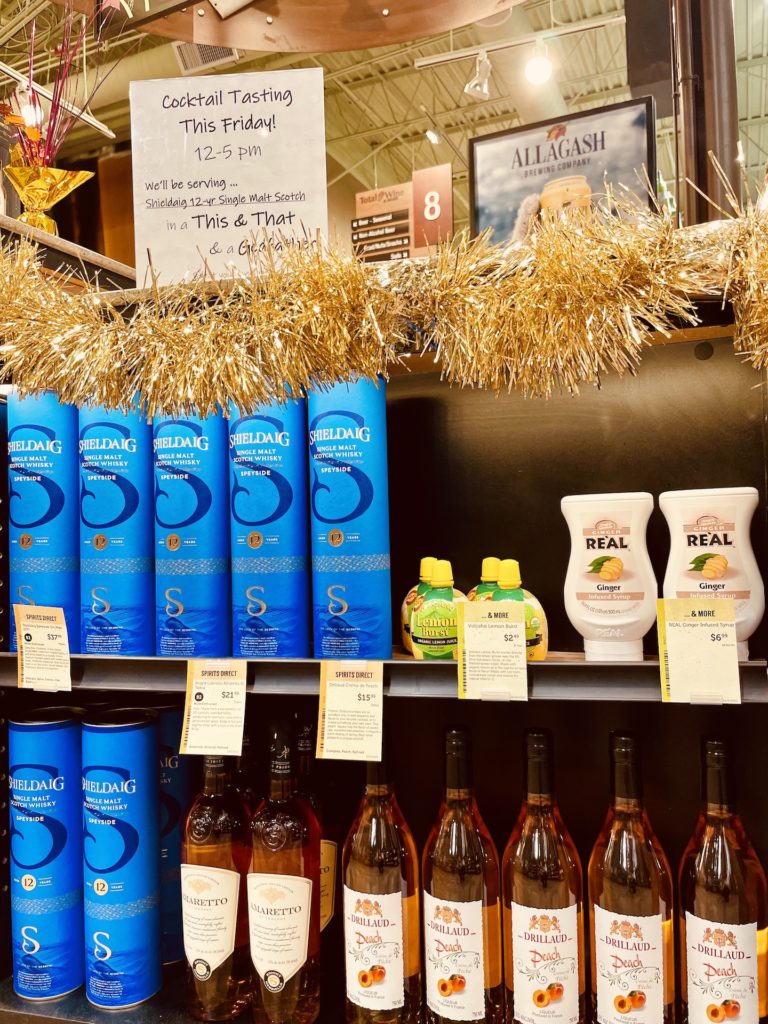 This & That Cocktail
Ingredients
2 oz Speyside 12-year single malt Scotch
½ oz peach liqueur
½ oz fresh lemon juice
½ oz ginger syrup
Method
Shake all ingredients with ice, then strain and serve over more ice!
The Godfather
Ingredients
1.5 oz Speyside 12-year single malt Scotch
*1.5 oz amaretto
Method
Combine ingredients and stir with ice to chill and dilute. Serve in an old fashioned glass with a large ice cube!
*Note: You can play with these proportions and make them your own! (That's allowed in cocktail making.) Some people preferred a 2:1 ratio or even a 3:1 ratio of Scotch to amaretto. What's right for you? Find your perfect Godfather and enjoy!